BigBlueButton Hosting – $40-$2500/mo.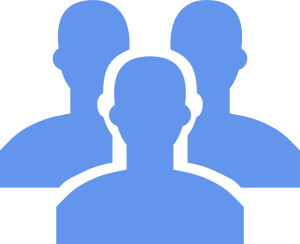 About BigBlueButton
BigBlueButton is an open source web conferencing system designed specifically for distance education, webinars, meetings, presentations, and online conferences. BigBlueButton allows users to join web conference as easily as clicking a single metaphorical "big blue button". We offer a number of hosting solutions for BigBlueButton. BigBlueButton is a trademark of BigBlueButton Inc. with whom we are not affiliated.
We now have a dedicated site for our BigBlueButton hosting offers.
Hosting for small, medium, and large clients
The offerings on this page are for individuals and smaller clients. We also offer hosting for medium to large clients like schools, hospitals, and other institutions. These offerings can be provided on-premises through your own network or via the cloud in a data center located near you, globally — we have simple cost-plus plans. Please contact us for more information.
Server Information for North America and Europe
We currently offer 4 shared server locations: Germany, British Columbia, Canada; Quebec, Canada, and Central United States. All users can create meetings in any location.
The cost of a shared plan on any of these servers starts at $25/mo. and includes the usage of an independent BigBlueButton API with various open source software like WordPress and Moodle. You may also record your meetings and each of your recordings is available only to you. Unlike other offerings, the recordings are not deleted after a certain amount of time. Unlike other offerings each meeting is separate and hosted on a dedicated server close to you for maximum performance.
The shared plan also comes integrated with a control panel which allows you to create meetings without any additional software. Just put in some login information and start creating meetings right away.
Currently Supported Shared Locations
North Western North America
(British Columbia, Canada)
North Eastern North America
(Quebec, Canada)
Central United States
(Missouri, United States)
Germany
Berlin, Germany

Alberta
British Columbia
Idaho
Montana
Navada
Oregon
Saskatchewan
Washington

Connecticut
Maine
Montreal
New Brunswick
New England
New Hampshire
New Labrador
New York
Newfoundland
Nova Scotia
Ohio
Ontario
Ottawa
Pennsylvania
Quebec
Vermont

Alabama
Arkansas
Colorado
Illinois
Indiana
Iowa
Kansas
Kansas
Kentucky
Louisiana
Minnesota
Mississippi
Nebraska
New Mexico
Oklahoma
South Dakota
Tennessee
Texas
Wisconsin
Wyoming

Austria
Belgium
Czech Republic
Denmark
France
Germany
Italy
Luxembourg
Netherlands
Poland
Slovakia
Switzerland
United Kingdom

Signup
Signup
Signup
Signup
---
BigBlueManager Multi-tenant Control Panel
Our shared server runs a custom control panel called BigBlueManager which allows for the creation of meetings, sending out notifications, etc. (See below for a link to a free trial). This custom software acts as a proxy server providing each user with their own API which is separate from each other user.
All BigBlueButton plans include BigBlueManager Control Panel cloud-based software for BigBlueMeeting to set up meetings, invite users, confirm invitations, and keep track of who attended.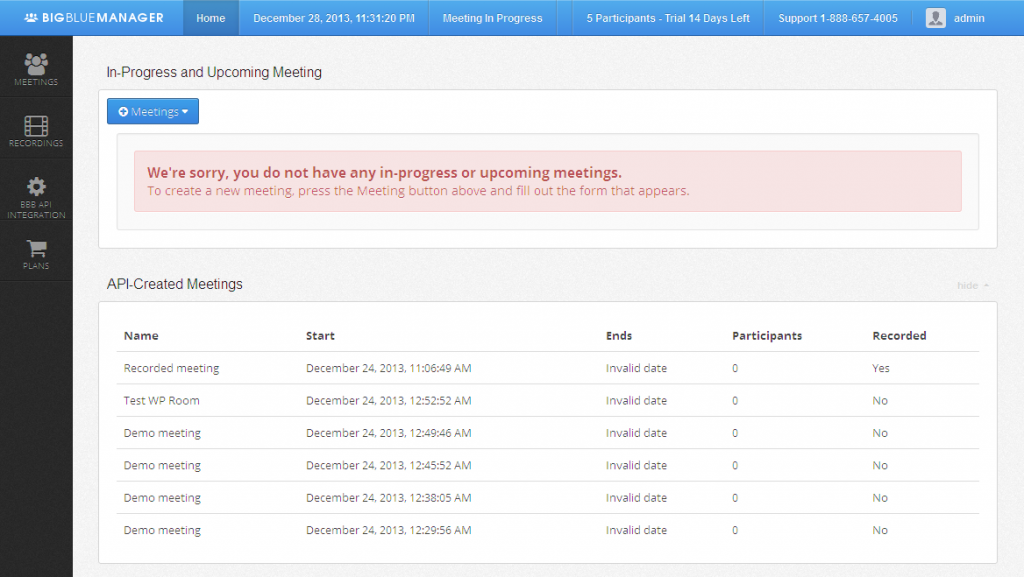 Pricing for Shared Hosting in North America and Europe (all plans include full BBB API support & features.)
Users
Price
Up to 50 users (depending on shared server load and BBB capability)
$40 to $2500 USD/mo.
Free 3 day trial
Contact us for dedicated server offerings which start at $300/month.
* Up to 50 hours of meetings / month.
Semi-dedicated Servers in Other Regions
We can also provide managed shared hosting in other regions around the world, however the cost for these plans start between $100-$300 per month. The reason for this is that we need to provision new servers in those locations. Once we have more than a single user we can reduce the rates to rates similar to those available in North America (2 users will cut the price in half). Please contact us to buy a server in these locations, it usually takes anywhere from a day to a week to provision a new server, so don't wait until the last second! Until we have more than one user, your server will act like a dedicated server with no limitations.
who attended.